MODEL SECTION TABLE AND ELECTRICAL DATA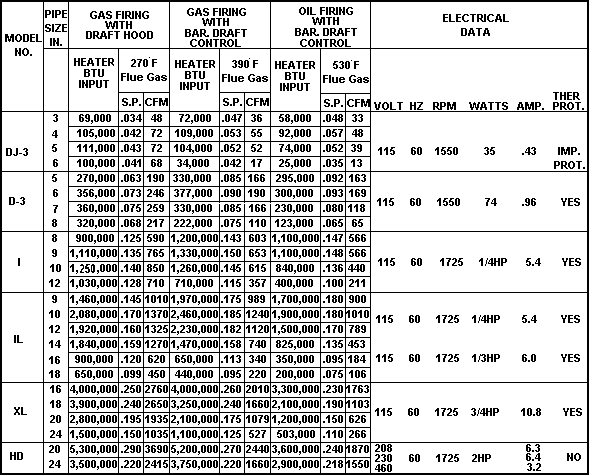 IMPORTANT: Vents/Chimneys utilizing In-Line Draft Inducers must be vertically terminated above the
roof line. Do not use for side wall venting. Consult factory for proper Side Wall Vent System options.
Fixed & Variable Speed Auto-Draft® Specifed Systems are also available with virtually
unlimited capacities.
NOTE:
Inputs shown above are believed to be maximum capacities for inducers, when mounted on pipe sizes shown
for ordinary jobs where a moderate amount of mechanical induced draft is required.
Consideration is given to typically higher static pressure requirements for larger installations, for the type
of fuel burned, and for the type of draft control installed.
Some ratings may only be valid for extremely short vent lengths due to excessive pressure loss; i.e. the Model IL
gas firing with draft hood in 10" pipe at 2,080,000 BTU/hr.
Where pressure requirements are unknown, or believed to be unusually severe, ask for complete performance
curves or consult factory.
Draft Inducers should be installed in single wall vent pipe to assure proper performance.
MODEL DIMENSIONS


---
---
ACCESSORIES
The UC1 is a standardized control for Tjernlund Inducers/Venters. It offers many installation, operational and safety benefits.
Universal Control
Model UC1
The UC1 can be interlocked with virtually any burner control circuit. Features include: adjustable pre & post purge, LED status / diagnostic indicators, 10 second prover switch delay to avoid burner start up and wind induced short cycling. Interlocks with any 24-120 VAC burner control circuit and also includes "dry" contact actuation option. Selectable voltage eliminates false activation by burner control circuits. After each burner cycle the UC1 will continue to operate in post-purge mode to allow the Inducer/Venter to purge the heater and vent of residual flue gases. A factory post-purge time is set at 2 minutes and is adjustable up to 16 minutes.
Multiple Appliance Controls
Models MAC1E, MAC4E

The MAC1E Multiple Appliance Control is used in conjunction with the UC1 Universal Control to easily interlock up to one additional 24 VAC, 115 VAC or millivolt controlled appliance. It activates the Venter through its connections to the UC1 and in turn relies on the UC1 Fan Prover safety circuit (P1 & P2) to allow its interlocked appliances to operate. Any pre/post-purge settings on the UC1 will be defaulted to the MAC1E. The MAC1E puts an end to difficult and costly job site wiring nightmares. Circuit board housed in oversized 18 gauge electrical box with multiple knock-outs for easy wiring connections.

The MAC4E Multiple Appliance Control is used in conjunction with the UC1 Universal Control to easily interlock up to 4 additional 24 VAC, 115 VAC or millivolt controlled appliances. It activates the Venter through its connections to the UC1 and in turn relies on the UC1 Fan Prover safety circuit (P1 & P2) to allow its interlocked appliances to operate. Any pre/post-purge settings on the UC1 will be defaulted to the MAC4E. The MAC4E puts an end to difficult and costly job site wiring nightmares. Circuit board housed in oversized 18 gauge electrical box with multiple knock-outs for easy wiring connections.
Millivolt Safety Interlock Kit
Model WHKE
For use with the UC1 Universal Control, MAC1E or MAC4E auxiliary controls. The WHKE gas pressure switch actuates the Inducer through the A-B dry contacts. The Linear Limit switch disables the heater in the event of a venting malfunction. Includes JA1 thermocouple junction adapter. To interlock millivolt water heater(s) only with a UC1 controlled Inducer add a WHKE for each millivolt heater. To interlock a millivolt water heater and one 24/115 VAC furnace or boiler with a UC1 controlled Inducer, add a WHKE and a MAC1E.
Barometric Draft Controls Models:
DC4, DC5, DC6, DC7, DC8, DC9, DC10
DC4G, DC6G, DC7G, DC8G, DC9G, DC10G
Quality engineered and manufactured to maintain a consistent draft on a wide range of oil and gas fired heating equipment. May be used with chimney vented or power vented heating equipment. For fan assisted gas, oil or solid fuel applications with vent diameters from 4"-10", choose the DC4 thru DC10. For LP and natural gas applications with vent diameters from 4"-10", choose the DC4G thru DC10G