THE PROBLEM:
Energy-conserving homebuilding materials and techniques minimize fresh air intake...a major cause of illness, discomfort and structural damage.

THE SOLUTION:
The IN-FORCER mechanically draws outside air indoors to dilute pollutants and replace stale air without sacrificing energy savings.
Click For
VIDEO

---

The IN-FORCER offers all these advantages

Affordably priced and installs fast. Plugs into electrical outlet.
Reduces cold drafts through windows, doors, fireplaces caused by excessive negative pressure.
Automatic clock/timer accommodates various air change requirements and lifestyles.
Reduces moisture, mold mildew buildup.

Warm incoming cold, fresh air by blending it with

ambient room air before introducing it into

home.

Helps replace air vented by exhaust fans,
fireplaces, etc.
Reduces negative pressure a major cause of flue gas spillage and radon gas entry.
Damper closes during off cycles to prohibit
cold air entry and warm air loss.
Increases security--fresh air can be brought in even when windows and doors are locked.
Click here for Prices, Quotes & E-mail at info@volko.com
Model No. PAI-1T & PAI-2T
The Timer/Clock on the Fresh Air IN-FORCER may be set to operate the unit in one of two ways. Easy to follow instructions and examples of these methods can be found in the IN-FORCER'S installation & operation manual.
Life-Style: The IN-FORCER may be cycled according to the life-style of the occupants. One scenario would be set the timer to operate the IN-FORCER for several hours straight in the morning and evening when a family is most active cooking, using bathroom facilities and doing laundry. The IN-FORCER should be cycled for 15 minutes each hour during non peak activity periods to compensate for exhausted air and to dilute indoor pollution and moisture.
Air Changes per Hour (ACH): ACH is a method to measure the volume of fresh air necessary to replace a percentage of the total volume of air inside the living space of a home. In general, studies recommend a minimum of 1/4 ACH. The IN-FORCER can be operated constantly or it can be cycled to deliver the amount of fresh air needed to achieve a desired air change rate.
CALCULATING EQUIVALENT LENGTH
EQUIVALENT LENGTH OF ELBOWS
The performance shown is based on equivalent feet. To determine the equivalent feet of an installation add the length of the 3" PVC inlet pipe plus the equivalent length of any elbows. Do not include the intake elbow or gooseneck, they have already been factored into the performance data. Use the same method to determine the equivalent feet if a 6" outlet duct is installed.

| | | |
| --- | --- | --- |
| ELBOW DIAMETER | 90 | 45 |
| 3" | 5' | 2.5' |
| 6" | 10' | 5' |
INFORCER PERFORMANCE DATA
Optional
Copper Fresh Air Vents
*Model PAI-1T
*Model PAI-2T
*Model PAI-1T
*Model PAI-2T
DIMENSIONS & MOTOR SPECIFICATIONS
| | | | | | |
| --- | --- | --- | --- | --- | --- |
| A | B | C | D | E | F |
| 17 3/4" | 15 5/8" | 8 7/8" | 2 5/8" | 8" | 9 3/8" |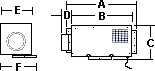 ---
| | |
| --- | --- |
| | Volko Supply is proud to be a distributor for Tjernlund Products. Manufacturer of the Auto-Draft draft inducer and other quality engineered and manufactured products that solve exhaust, ventilation and heating/cooling problems. |
Click a link below to view other draft and ventilation solutions.
Click here for Prices, Quotes & E-mail at info@volko.com